Original article found on bloomberg.com
It's the start of a new year. Everyone's resolving to slim down, get things together, be better in 2016. The Rolex Explorer is a handsome vintage watch to go along with your restraint. And it will definitely outlast those resolutions—sorry.
The Explorer has pretty lofty origins. In 1952, a few prototype watches were made for Edmund Hillary's historic first ascent of Mt. Everest. The watch Hillary wore, which has a white dial, triangular markers, and alpha-style hand, is sitting in the museum of a watch store in Zurich. It doesn't look like the one here because a year after the Hillary watch was made, Rolex reconfigured the aesthetics. In 1953, it issued the first watches with "Explorer" on the dial.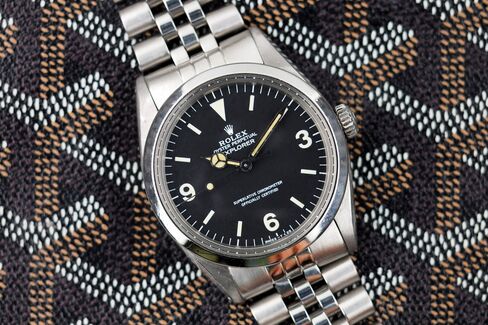 A few models of Explorer were made in the 1950s, but it was in 1963 that the ref. 1016 came out. This is, without a doubt, the most iconic Explorer watch. It's the one most collectors look for. (And it's the most direct predecessor to today's Explorer.) Unlike other vintage Rolex sport watches, the Explorer doesn't have a colored metal bezel that can fade and change over time, giving it a cleaner (if slightly less charming) look. At 36 millimeters, it's also smaller than something like the Submariner or GMT , making it a little more versatile. On a leather or crocodile strap, it can easily do double-duty as a dress watch.
The Explorer's style of case also differs from other Rolex sport watches. Instead of the thick lugs with curved bevels along the edges, the 1016 has a case with softer swooping lugs. They should be polished on the sides and evenly brushed on top, with the holds sitting right in the middle and not too close to the edges. If they're off to one side or too near the edge, you know the case has been overly polished. This example is near-perfect, a great example of what this watch should look like.